The Hatzenbichler "Original Harrow"
The best alternative to the chemical weed control
Can be used in almost all the crops
Made with special steel frame
Movable harrow bed
The "Hatzenbichler harrow " has established since 1952 as the best alternative to the chemical weed control.
It can be used in almost all the crops, like grain, corn, sugar beets, oilseed rape, soya- beans, peas, potatoes, vegetables and in the grassland.
Exact adaption to the ground and smooth running, especially with larger working widths of harrow.
It´s possible to use harrow together with pneumatic seeding machine.
The harrow
The working target of the harrow is to keep the weeds at a minimum level and break the crust. It can be used for blind harrowing after planting.
Working width from 1,50m up to 27,00m, 3-point hitch and pull type, with special "shear" folding system for a small transport high and width.
The harrow is made with special steel frame and each harrow field is individually suspended on chains, characterized best ground tracking.
Movable harrow bed with 2-disc storage guarantees perfect ground gadaption. By the gyroscopic effect of the tines triple coiling is a full-surface machining. The protected spring turn prevents pinching off the tips of plants.
The tines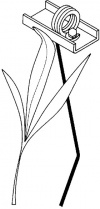 There are specially shaped tines for arable cultivation with 6,7 or 8mm diameter. They are giving the optimum vibration effect through triple coiling. Made of oil-tempered hardened spring wire - long working life, no breakage.
The six tine bar of harrow field will be matched with a lever or hydraulically to the required inclination. The aggressiveness and the tine pressure of the tines can be adjusted centrally at each harrow field (10 Settings), the aggressiveness of the tines of train (>90°) to shock (<90°) is highly variable.
Due to the lateral vibration of the tines in connection with the driving speed a comprehensive processing is achieved.
Benefits
We develop and build our products with the daily experiences of our customers in St. Andrä in Lavanttal Austria - the best engineering and highest manufacturing quality meet perfect spare parts supply. Our machines are for professionals - day after day! stable construction
and highest manufacturing quality

unique lifespan
and the best spare parts supply for long-term use

Made in Austria
by our experienced and long-term employees
The Hatzenbichler "Original harrow"
The best alternative to the chemical weed control
Video
The Hatzenbichler "Original harrow" in use
"Original harrow"
Technical details
Equipment
3-point hitch
With tubular frame
Hydraulically foldable
Height-adjustable support wheels on ball bearings
Field tines
Tine width 6mm, tine length 380mm
Tine width 7mm, tine length 450mm
Tine width 8mm, tine length 450mm
Protected spring winding (no damage to plant tips)
Central tine adjustment (10-hole)
Transport lock - through valve
Moving harrow section (optimal soil adjustment)
Automatic transport lock mechanism - operation from the tractor seat
No rigid locked side arms (optimal soil adjustment)
Transport width 3m
Special equipment
hydraulic tine adjustment
track eradicator tine
grassland tines
3-point harrow
| working width | field | tine diameter | wheels | weight ca. kg | kW | HP |
| --- | --- | --- | --- | --- | --- | --- |
| 1,5 m | 1x1,5 m | 6 / 7 / 8 mm | 2 | 180-200 | 7 | 10 |
| 2,0 m | 1x2,0 m | 6 / 7 / 8 mm | 2 | 200-220 | 9 | 13 |
| 3,0 m | 2x1,5 m | 6 / 7 / 8 mm | 2 | 270-290 | 11 | 15 |
Hydraulic foldable
| working width | fields | tine diameter | wheels | weight ca. kg | kW | HP |
| --- | --- | --- | --- | --- | --- | --- |
| 4,5m | 3x1,5m | 6 / 7 / 8 mm | 2 | 410-430 | 11 | 15 |
| 5,0m | 2x1,5m 1x2,0m | 6 / 7 / 8 mm | 2 | 440-460 | 18 | 25 |
| 6,0m | 4x1,5m | 6 / 7 / 8 mm | 2 | 490-530 | 29 | 40 |
| 6,0m | 3x2,0m | 6 / 7 / 8 mm | 2 | 490-530 | 29 | 40 |
| 7,5m | 5x1,5m | 6 / 7 / 8 mm | 4 | 710-750 | 37 | 50 |
| 8,0m | 4x1,5m 1x2,0m | 6 / 7 / 8 mm | 4 | 760-800 | 37 | 50 |
| 9,0m^ | 6x1,5m | 6 / 7 / 8 mm | 4 | 830-890 | 44 | 60 |
| 9,0m* | 6x1,5m | 6 / 7 / 8 mm | 4 | 1.070-1.130 | 44 | 60 |
| 10,5m* | 7x1,5m | 6 / 7 / 8 mm | 4 | 1.220-1.300 | 44 | 65 |
| 12,0m* | 8x1,5m | 6 / 7 / 8 mm | 4 | 1.320-1.400 | 51 | 70 |
| 13,5m* | 8x1,5m | 6 / 7 / 8 mm | 4 | 1.460-1.550 | 51 | 70 |
| 15,0m* | 10x1,5m | 6 / 7 / 8 mm | 4 | 1.910-2.030 | 74 | 100 |
* machine crop folded
^more than 3m transport height
Pull Type harrow
Technical details
Equipment
Hydraulic leveling per each field
Parallelograms with hydraulic cylinders for each field
Support Frame (4- Point-bracing)
Constant pressure on the ground - no jumping
Agriculture tines Options: tine Diameter 6mm, 7mm, 8mm
Protected spring coil (no damage to the plant tips)
Central adjustment of the tine (10 hole adjustment)
Movable tine field
Transport width of 3,00m
Special equipment
hydraulic tine adjustment
Track eradicator tine
| working width | fields | tine diameter | wheels | weight ca. kg | kW | HP |
| --- | --- | --- | --- | --- | --- | --- |
| 15,0m | 10x1,5m | 6 / 7 / 8 mm | 4 | 2.750-2.840 | 66 | 90 |
| 18,0m | 12x1,5m | 6 / 7 / 8 mm | 4 | 2.930-3.040 | 74 | 100 |
| 24,0m | 14x1,5m | 6 / 7 / 8 mm | 4 | 4.570-4.730 | 103 | 140 |
| 27,0m | 16x1,5m | 6 / 7 / 8 mm | 4 | 4.820-5.100 | 110 | 150 |