Hornet series
Achieved with low requirement and large widths, high rates of workrow crops
row distance 12,50 cm or 15,00 cm
Air Cart Trailer 3000 liters volume
The Hornet serie is used for row sowing after prepared seedbed for example,weeds, canola, soy, etc..
Hatzenbichler Hornet series is offered in working widths from 6m to 12m.
It stands out because of their low horsepower and expenses easier handling and setup of the machine.
The row distance is 12,5 cm.
The double disc parallelograms with spring-pressure adjustment and pressure roller Farmflex provide optimum ground adaption.
The seed unit is the pneumatic seed trailer Air Cart Trailer TH300 with 3000 liter capacity ( Air Cart Trailer).
The Hornet s series with heavy seed plate parallelogram can be use directly to the stubble on row crops.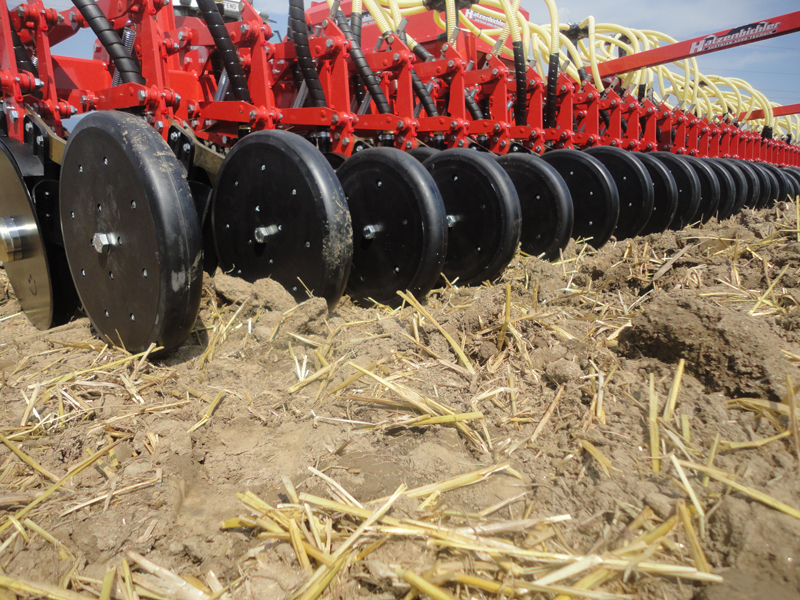 Benefits
We develop and build our products with the daily experiences of our customers in St. Andrä in Lavanttal Austria - the best engineering and highest manufacturing quality meet perfect spare parts supply. Our machines are for professionals - day after day! stable construction
and highest manufacturing quality

unique lifespan
and the best spare parts supply for long-term use

Made in Austria
by our experienced and long-term employees
Hornet series
Achieved with low requirement and large widths, high rates of workrow crops
Video
Row sowing after prepared seedbed
Sowing directly to the stubble on row crops
Technical details
Hatzenbichler Hornet series
Hornet series
A stable form tube base frame
Double disc openers parallelograms with spring pressure adjustment and pressure roller farmflex
12.5 cm row spacing
Working depth 6cm
Pucks separately for each parallelogram
Hydraulically folding 4m working width
Hydraulic coulter pressure adjustment
Hornet s series
A stable form tube base frame
Severe seed disc parallelotram
Special Disc turbo discs
Working pressure up 80kg/Parallelogramm
Working depth 8cm
15cm row spacing
Pro parallelogram two seed outlets
Pucks separately for each parallelogram
Hydraulically folding 4m working width
Hydraulic coulter pressure adjustment
Hatzenbichler Hornet-Serie
| Working width | Row distance | Weight approximately kg | HP |
| --- | --- | --- | --- |
| 6,00 m | 12,50 cm | 1.900 | 150 |
| 6,00 m | 15,00 cm | 1.800 | 150 |
| 9,00 m | 12,50 cm | 2.600 | 200 |
| 9,00 m | 15,00 cm | 2.500 | 200 |
| 12,00 m | 12,50 cm | 3.200 | 250 |
| 12,00 m | 15,00 cm | 3.100 | 250 |