Duplex-Interrow cultivator
Full weed control
Weed control
Row distance of 45cm to 70cm
The Hatzenbichler Duplex-Interrow cultivator is used for full-area mechnical weed control in row crops from 45cm to 70cm
These tools break up encrusted soil and create optimal growth conditions for the cultivated plant through faster soil warming and stimulation of root growth.
The new duplex parallelogram with hydraulic row lifting with the new tine head allow full cultivation of the row crop.
The working depth of the duplex parallelogram is steplessly adjusted by means of a spindle adjustment using two ball-bearing farmflex wheels on each parallelogram.
The new tool carrier is equipped with cutting disks, L-knives and high adjustable vibration spring tines, all of these are precisely adjustable in height and width.
The cutting discs with a diameter of 480mm loosen or cut the soil in advance.
The L-knives with a length of 265,1mm are guided as close as possible to the row of plants in order to optimally work out weeds.
The high adjustable vibration spring tines with duck foot shares and hollow pin with a width of 150mm, 200mm, 250mm or 300mm, depending on the distance between the rows of crops.
These tools allow you to work deeper in the row so as not to damage the roots of the crop.
The high adustalbe vibrtation spring tines are very wear-resistant and, thanks to the constant vibration, work extremely blockage-free, even with crop residues.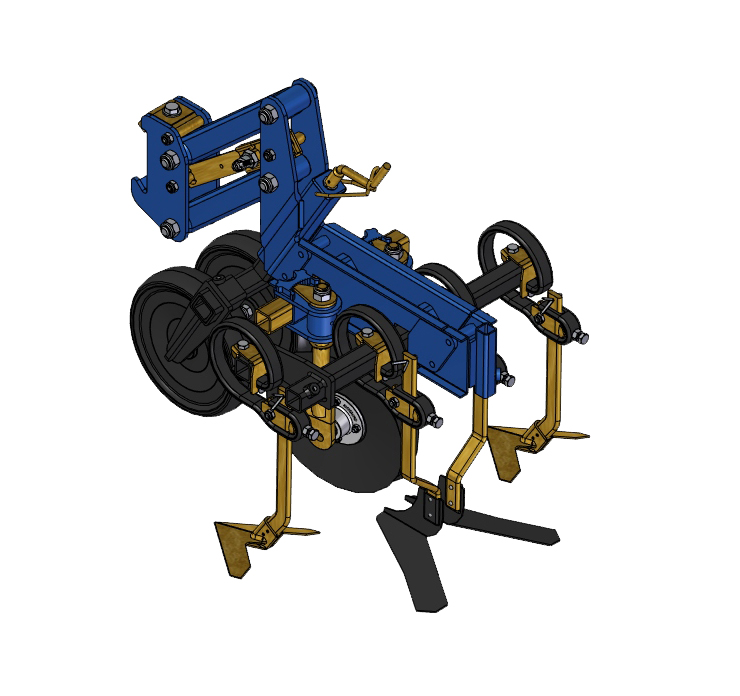 The duck foot shares with hollow pin are aligned parallel so that they cut through the soil with their special cut and thus cut off the weeds at the roots.
In order to complete the full-area weed control, finger weeder with hydraulic lifting are installed as an option.
The parallelogram are individually atteached to the main frame tube, whereby a stepless and precise setting of the row width by loosening only one screw is possible.
For precise control of the interrow cultivator flanged or rubber wheels will offered.
The camera steering assistant ensures that the interrow cultivator is guided precisely.
Tines and shares
High adjustable vibration spring tine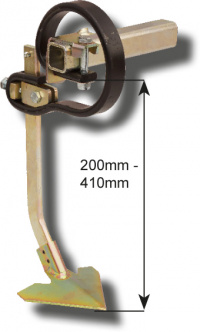 Cutting disk with holder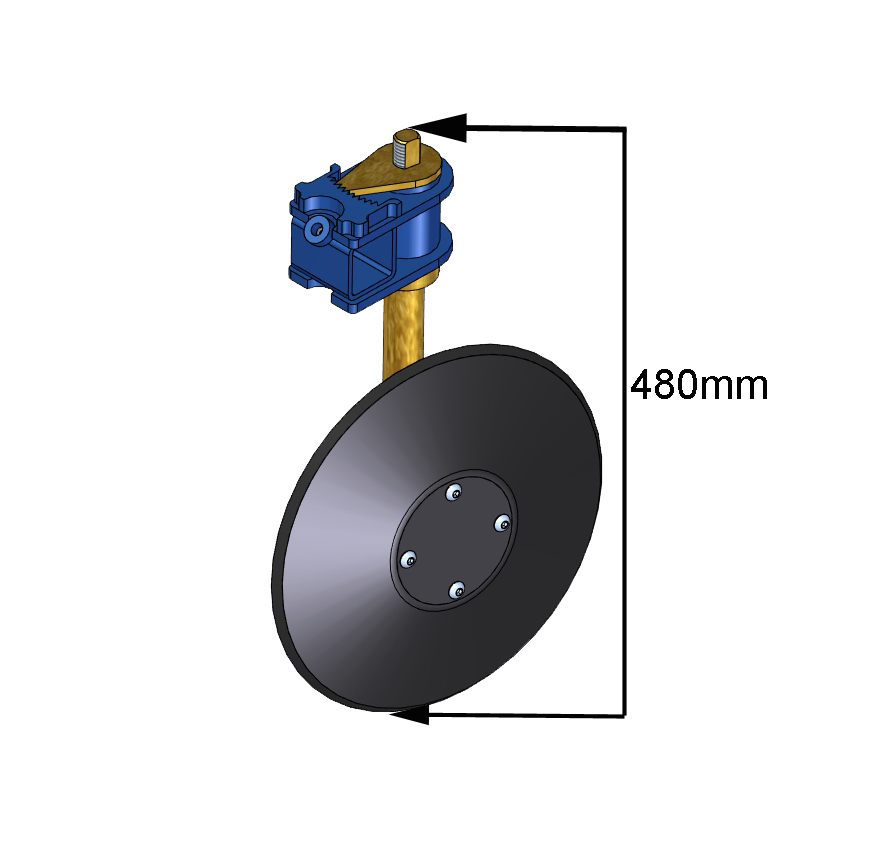 L-knife with holder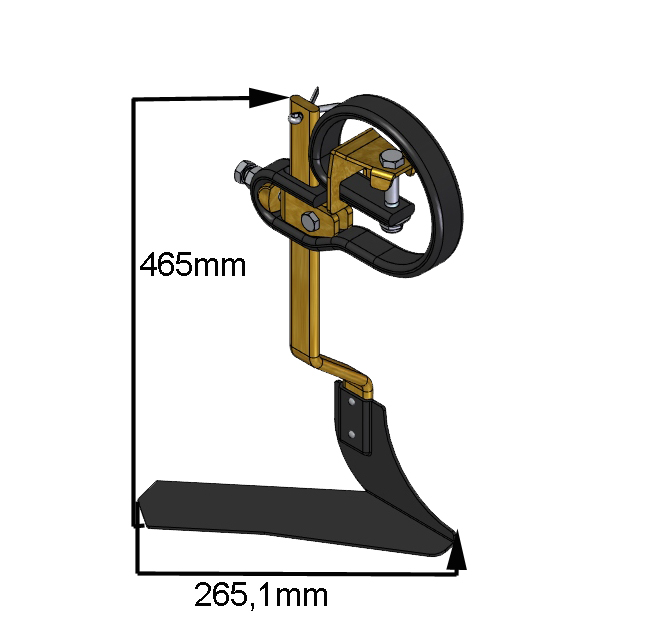 Duck foot share with hollow pin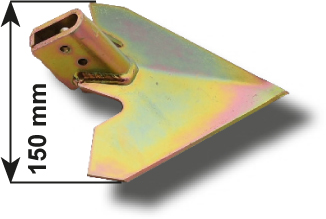 Duck foot share with hollow pin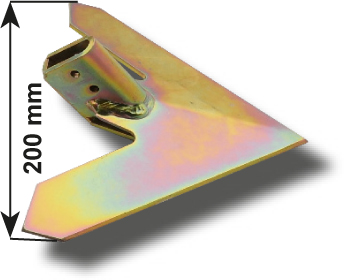 Duck foot share with hollow pin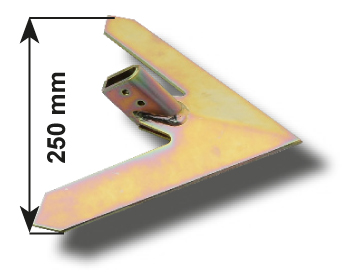 Duck foot share with hollow pin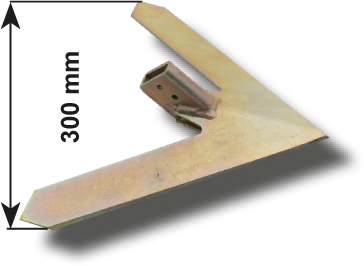 Quick change system
The quick-change system for duck foot shares with hollow pin.
As an option, a compressed air tool including a storage case for replacing the duck foot shares with hollow pin is offered.
This extension offers enormous relief when changing shares. All you need is a compressor or the compressed air line on the tractor.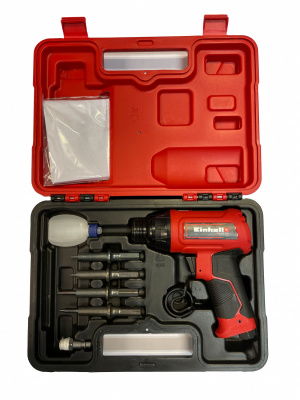 Hard metal share 150mm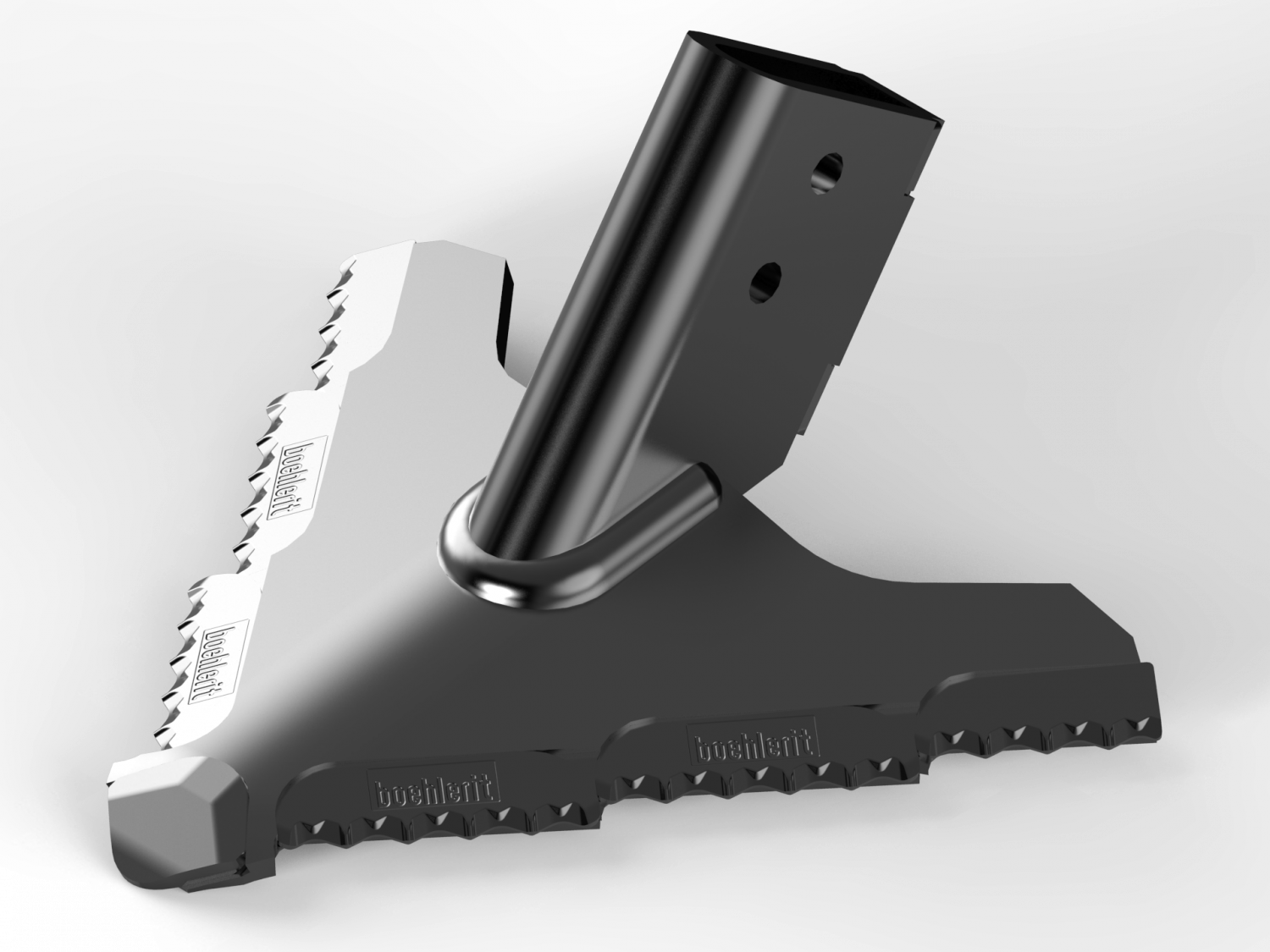 Hard metal share 200mm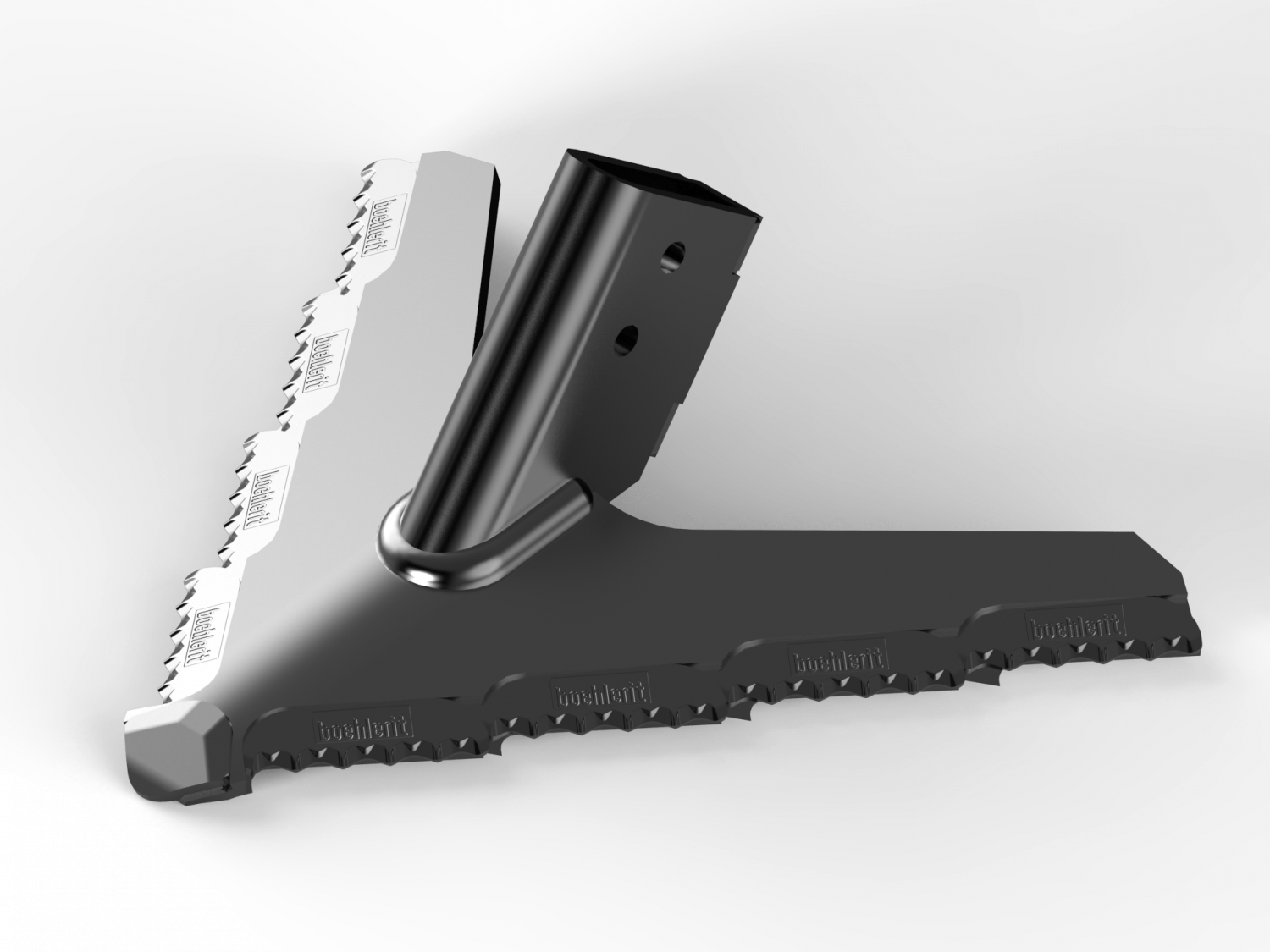 Hard metal share 250mm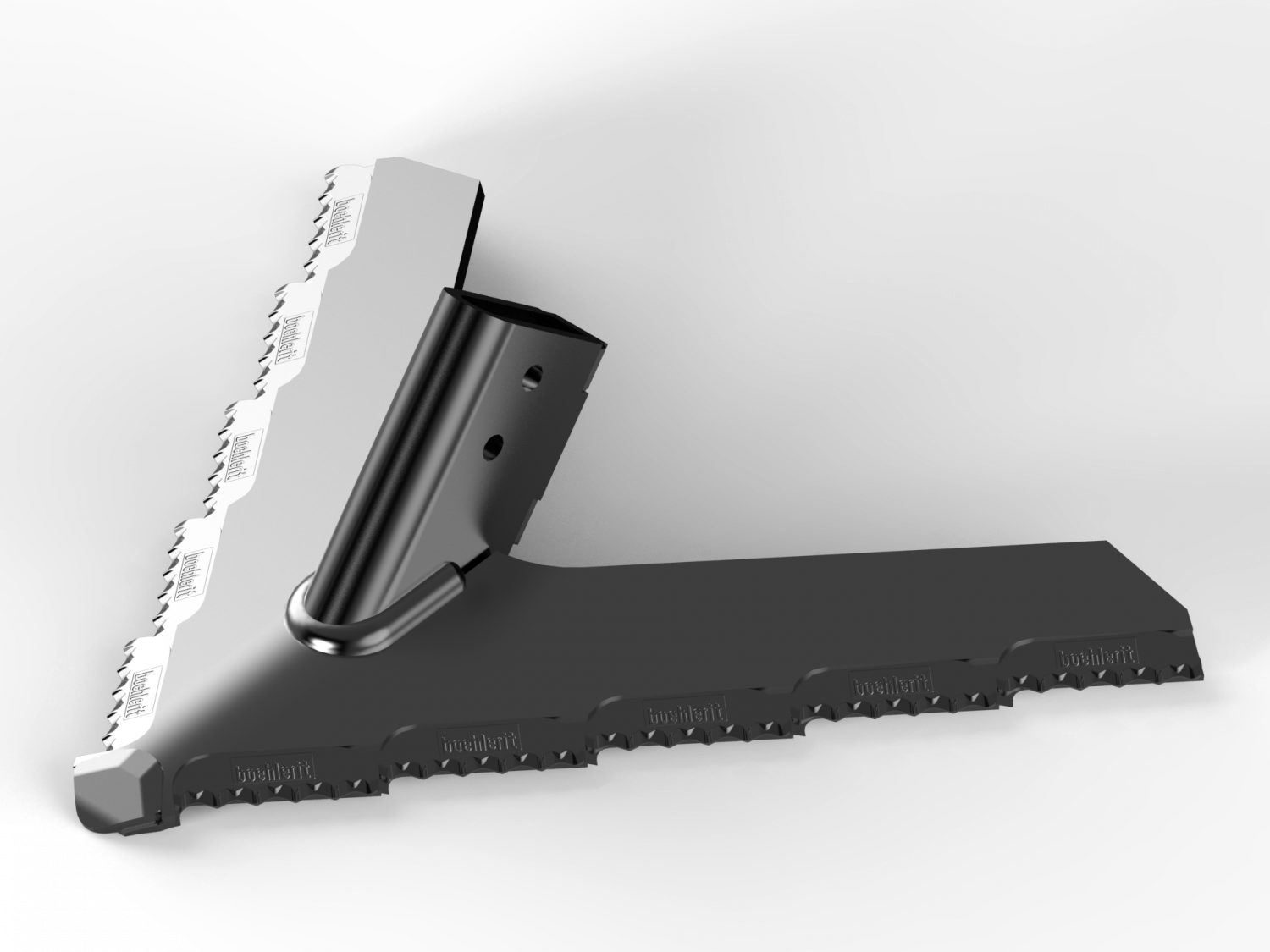 Benefits
We develop and build our products with the daily experiences of our customers in St. Andrä in Lavanttal Austria - the best engineering and highest manufacturing quality meet perfect spare parts supply. Our machines are for professionals - day after day! stable construction
and highest manufacturing quality

unique lifespan
and the best spare parts supply for long-term use

Made in Austria
by our experienced and long-term employees
Duplex-Interrow cultivator
Exact, full-area weed control
Technical details
Duplex-Interrow cultivator
Standard equipment:
3-Point hitch
profile tube-main frame bar
stabilizer with rubber wheel of flanged wheel
tool carrier"Duplex" with
2 pcs. cutting discs
2 pcs. L-knives
Duplex-parallelogram with two ball bearing framflex wheels for depth control on
each "chop body" with smooth spindle adjustment
Additional equipment:
High adjustable vibration spring tine with duckfoot share with hollow pin
150mm, 200mm, 250mm and 300mm
| rows | main frame | weight approx. kg | HP |
| --- | --- | --- | --- |
| 6 | rigid | 640 | 40 |
| 6 | hydraulic foldable | 770 | 60 |
| 8 | hydraulic foldable | 990 | 75 |
| 12 | hydraulic foldable | 1.400 | 110 |
| 16 | hydraulic foldable | 2.100 | 110 |
| 24 | hydraulic foldable | 2.950 | 150 |